Over the last 20 years, the number of college going students who have taken up Piano as their major for the undergraduate degree in the USA has risen by some 25%. According to a report published by ABRSM (Associated Board of the Royal School's Music), 23% of kids in the age group 5-14 years play the piano and out of these 23%, about 83% seek for a piano teacher to learn the basics of playing a piano. If ever there was a time to become a piano teacher, this is it.
So if you are an accomplished pianist and love to help others grasp the nuances of fine piano playing, a career as a piano teacher is ideally suited for you. With non-existent competition and few barriers to entry, a piano teacher is pretty much always in demand and can prove to be a tremendously rewarding career, income-wise. What's more you can conduct your piano classes from the comforts of your home, without having to worry about going to work everyday or catching the train!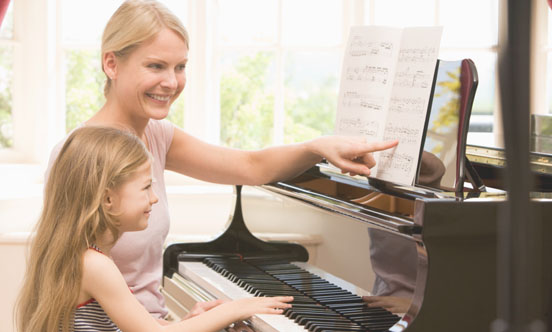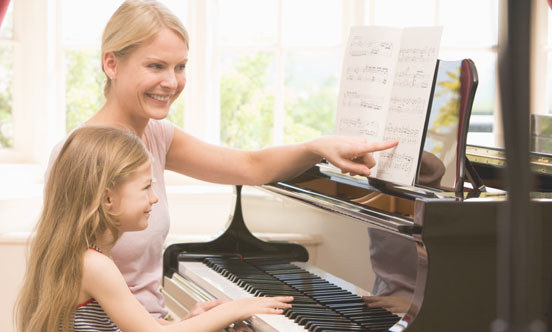 This article is aimed to serve as a basic guide about how to become a piano teacher, and what exactly the job and the position entails for you.
Required Qualifications

There is no essential qualifications required for you to start offering piano lessons. The only criteria for becoming a piano teacher is that you must have the required competency in playing a piano and the correct attitude while teaching. That being said, it certainly helps to enhance your reputation as a piano teacher, if you have a diploma or a degree to show against your name.
According to a statistic released by the Musician's Union, 60% of music teachers (not just piano) have a degree or a diploma, while 40% don't. Also, most of the teachers tend to have at least a few years experience of playing a musical instrument or have had some sort of formal training in music. You can opt for a Bachelors degree in Music or enroll in ABRSM's graded music exams and earn a Grade of 1-8 in any musical instrument, to establish your credentials as one of a learned pianist.
Equipments and Educational Resources

As a piano teacher who teaches from home, you must have a separate room to impart your lessons to the students. Contrary to what you may think, you can easily conduct a successful piano lesson by using only one piano. However, you must ensure that the piano is well tuned and well-maintained to ensure a perfect rendition of the lessons.
Equally important is maintaining a resourceful library of educational materials that you can use while conducting the piano lessons. Ideally, a sheet music should be used to educate your students about the musical notations. You can also incorporate a prescribed piano program in your private course, and follow it while teaching the older students. Having a course with pre-established guidelines and milestones helps students to target towards a certain goal and track their progression of piano skills.
Obtain a DBS Certificate

Yes, this is an essential step towards becoming a piano teacher, especially if you are going to tutor kids or students under 18 years of age. Obtaining a DBS certificate entails a criminal record background check, and goes a long way in convincing parents about enrolling their kids to your piano classes.
Also, you can opt for a public liability and private indemnity insurance, in you are going to teach at home. This will help you avoid any legal complications that may arise from your piano lessons in future.
Market Yourself a Tutor and an Accomplished Pianist

Most piano teachers are found lacking in this area. Traditionally, piano teachers are not known to be very marketing savvy and technology savvy. Both these factors often lead to an underwhelming performance as a piano tutor, when the business simply fails to take off. You can start off with a word-to-mouth marketing campaign, where you act as your own agent and inform as many people as you can, about the piano lessons you are going to offer. You can also get business cards made to pass them on to anyone who might seem interested. Also helpful are placing ads with busy places in your vicinity such as local shops or malls or cafes.
You must also be willing to exploit the internet and as such, maintain an active profile on various social media websites to enhance your reach. You can even publish your own blog, where you can provide information about yourself and the courses you are offering or you can make the blog look like an online resource for all the piano related info and engage people. There are various music directory websites too, like the Tutor.com, which can help improve your online presence and get parents to contact you directly.
Relish the Experience as a Piano Teacher

As a piano teacher make sure that your piano lessons remain enjoyable throughout for both you and your students. The best teachers are those who know how to remain positive through both their learning and guiding phase. If you do not find yourself to be aroused by a student's eagerness to learn piano from you, then teaching a piano might not be the job for you. On the other hand, if you look forward to meeting your students everyday and love sorting out all their minor and major issues with piano, you will find piano teacher as the perfect career option for you.