If you click the links above you will be redirected to Amazon.com. In case you then decide to buy anything, Amazon.com will pay me a commission. This doesn't affect the honesty of this review in any way though.
Finding the best digital piano can be a more difficult task than at first thought. Choosing the right piano out of hundreds of different options can turn into a big headache. This is why we, here at BestDigitalPiano.net, will review the latest and best pianos making sure you get the best value for your money. Our contributors, having a combined experience of decades in this field, will carefully review the latest models and deliver the conclusions in form of a guide, which you will find further down the page.
Top 5 Best Digital Pianos
Each digital piano is ranked in relation to a number of characteristics and features such as: key sensitivity, key quantity, speaker quality, sound, polyphony and many more.
These must all be taken into account when forming an opinion on any specific model. Reaching a decision is very difficult, especially when you're just beginning.
Because selecting the right piano can obviously be pretty time consuming, we've done most of the heavy lifting for you.
We've reviewed several digital pianos in different price and complexity ranges. After careful comparison, we decided to further mention these models among our best digital piano picks. We decided to include options for beginners, advanced and professional level musicians alike.
Best Digital Piano Reviews
Nord Stage 3
One of the most complex musical instruments of its kind, the Nord Stage 3 is certainly the best digital piano for performing artists as well as advanced pianists who like versatility.

Besides from being one of the most good looking digital pianos out there, the Nord Stage 3 is packed with more features than the majority of other comparable models.
The dashboard is organized in 3 sections: piano, organ and synth. There's clear progress in every section, compared to the former model.
There's a lot that can be said about the Nord Stage 3, but I think the best thing to do is to take a look at the demo video below, to better understand why so many performing artists use this instrument.
As you can see, there's a tremendous control over the sound. With the proper skill set, the sky is the limit to what you can do with the Stage 3.
Even beginners can start the learning process with this keyboard. But, if you are a beginner, first be certain that your commitment is for the long term, because otherwise you could spend a lot less on a very good digital piano.
If you want more information on the Nord Stage 3, read our full review.
---
Yamaha YDP-184
Probably the best digital piano for home use, the Yamaha YDP-184 boasts a beautiful sound and a very realistic piano playing experience.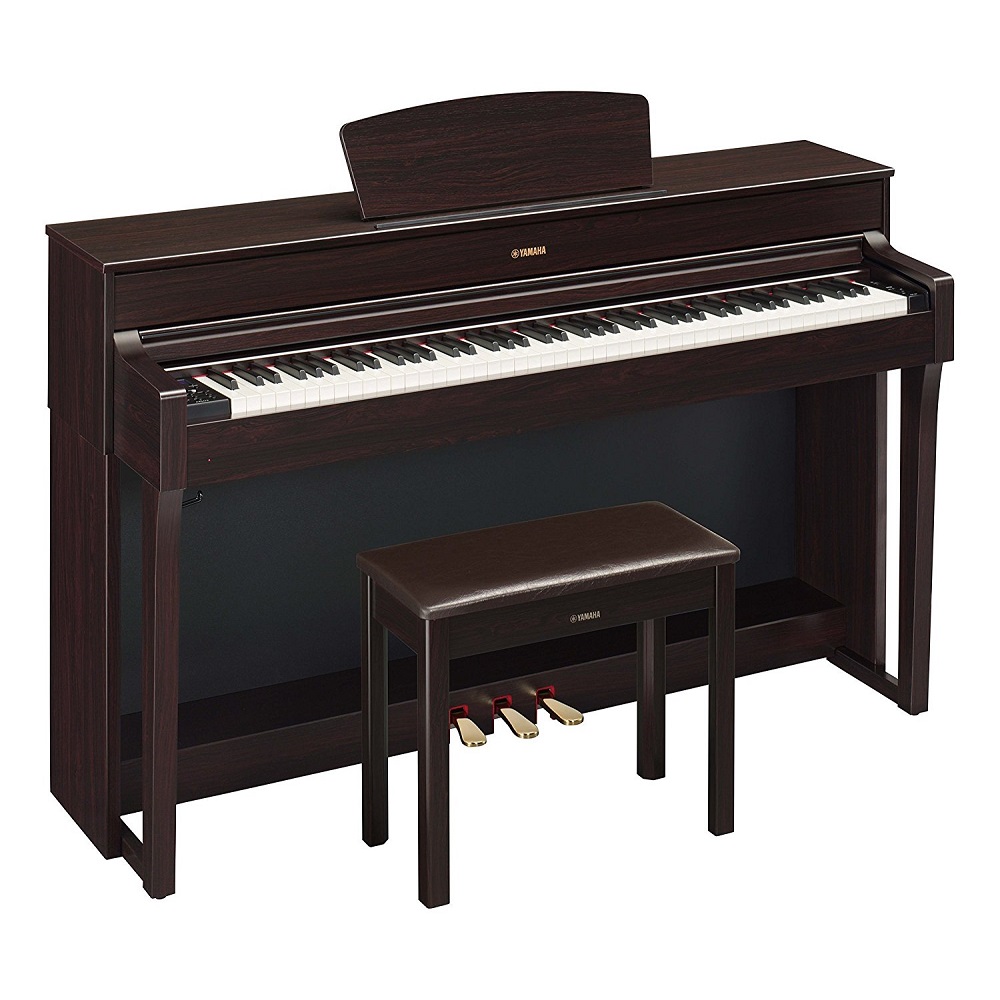 The sound leaves room for customization through the Virtual Resonance Modeling feature. You can easily adapt a number of characteristics so as to obtain the exact sound you're looking for.
Another aspect that speaks for our pick is the realism of the playing the keyboard. The weighted keys offer an authentic feel.
You can easily record your songs through the MIDI recording function. If you need to connect to a tablet or other mobile devices, there's a USB connection port that you can use to do so.
Probably more than with all other digital pianos on the market today, the Yamaha YDP-184 was built around the concept of authenticity. As mentioned before, authenticity of sound as well as of the feel of the keys.
Together all of these factors come together to form a very nice piano that can used with great pleasure by beginners as well as advanced pianists.
The only drawback, when compared to other digital pianos of this caliber is the lower level of versatility. But, on the other hand, it's designed mainly to be used as a piano.
Do you want more information on the Yamaha YDP-184? Read our full review.
---
Roland RD-2000
A pick that I think had to be among the best digital pianos is definitely the Roland RD-2000. There are so many features that support our choice, but probably the most important ones are the presence of two sound engines and the degree of control you have.

The perfect choice for performing artists as well as professional music composers, the Roland RD-2000 is actually very good value for money. I would say that it's actually very affordable, considering the type of instrument it is.
You can easily mix up to 8 different sounds. You can also store sounds of your own on it and use them whenever you think appropriate.
If you would like to use different voices at the same time, you can do that by designating up to 8 different zones on your keyboard for just as many voices.
In our opinion, the RD-2000 is among the top choices overall easily, when looking at the entire digital piano range.
It's definitely an instrument for advanced musicians. Although beginners and intermediate pianists will probably not need all the bells and whistles, they would most likely appreciate the piano sounds. All of the sounds are great, but the piano sounds are the best.
Do you want more info on the Roland RD-2000? Read our full review.
---
Best Digital Piano for Beginners
The options that we've presented above are hands down the best digital pianos that you can find right now. They have the finest technology in electronic keyboards. But can any one of these be considered the best digital piano for beginners? Yes and no.
Yes, because they are a great instrument even for performing artists and music creators. Thus, they surely have everything it takes for beginners to be able to learn piano and then some.
And no, because they might have too many features, which raise the price of the instrument. In this case, a beginner should be absolutely sure that he'll keep at it for a considerable while to make it worth the price difference.
Probably one of the best digital pianos for beginners would definitely be the Yamaha YDP-144, which is very good value for money. It has everything a beginner needs to start learning piano.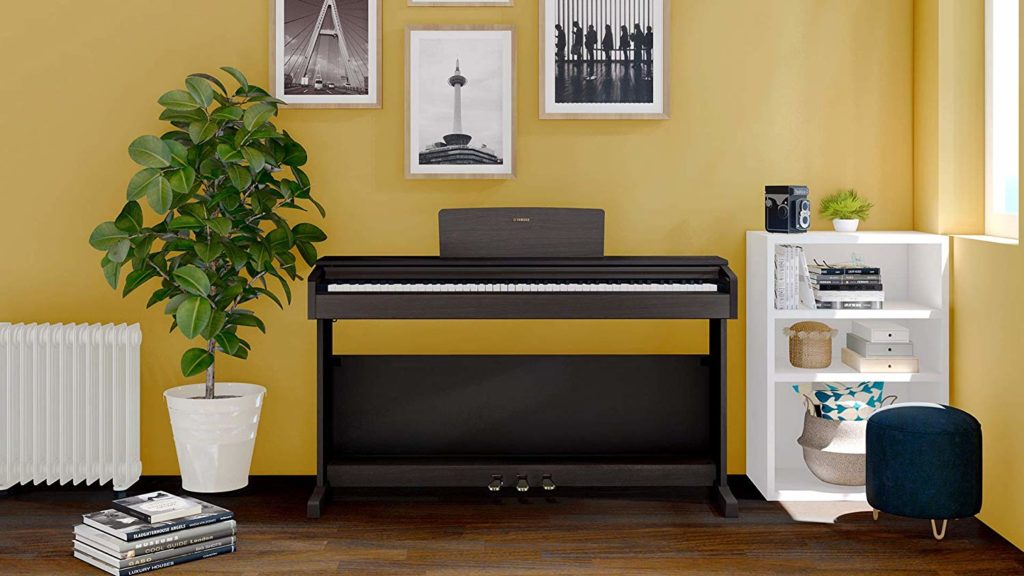 It comes with the cabinet style stand with 3 pedal unit and seat. It has everything it needs to offer beginners a realistic playing experience: weighted keys and a very nice sound, sampled from Yamaha's CFX concert grand piano.
Useful Tips on Choosing the Best Digital Piano
1. Number of keys
This is an important aspect when it comes to digital pianos, because they range from 88 keys down to 25 keys. For those people who are serious about learning to play the piano, buying an 88 keys model is be the best option. Yes, you can start out with a model with less keys, but you will ultimately have to upgrade to a full 88 key piano. So, financially wise, yous should go for a full model right from the start.
2. The sound that the keys often produce
You have to be careful at the sound that the keys produce when deciding on whether to buy the digital piano or not. Many people often ignore this important feature without knowing how it affects the quality of sound when playing the piano. Remember that the quality of music that you produce also depends on the type of keys that your piano has. Most models produce a certain "click" sound when pressed, but some of the better models, like the Casio PX850 and the Yamaha YDP-V240, have this problem taken care of.
3. Quality of the display
If you go for a digital piano with a display you should mind certain aspects. The display should always show you the functions and spelling when playing your piano. This will help you enhance the quality of sound that you produce, making it easy for you to compose better sounding music.
4. Amplification process
The amplification process often determines the quality of sound that your piano produces, at the same time affecting the quality of music that you play. This is why it is important to take into consideration this important factor when buying a digital piano. Make sure you choose a piano with a good amplification technology, especially if you want to play for more people.
5. Action of the digital piano
The quality of sound that the weighted as well as semi-weighted keys of a piano produce should be another point when deciding which model to purchase. Some of the better models have fully weighted keys, which means the sound of the key depends on the way you press it down. Remember that weighted keys may sometimes be a little more costly when compared to the semi-weighted keys; however, this will result in a richer experience when playing the instrument, both for the pianists and audience.
6. Connectivity
Digital pianos come with a MIDI performance functionality. This feature enables you to connect you digital piano to different musical instruments, music players and even computers. Thanks to this feature it's also possible to add new music and software to the digital piano. Some models also feature USB ports for added convenience.
7. Cost of piano & reputation of manufacturer
The price of the digital piano should help you make the best buying decision. Remember that you do not need to buy these pianos from expensive dealers when you can find similar pianos at a better price online. In addition, you should also do your research on the manufacturer's reputation. This will always help you make the best choice whenever you're looking for a high quality digital piano.
More Digital Piano Reviews
To answer the question "which is the best digital piano on the market?" we must sort out different aspects that make a difference, to give you, our reader, the best digital piano that will surely meet your needs and make you feel great about your choice.
Casio PX850 Privia Digital Piano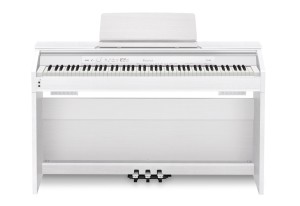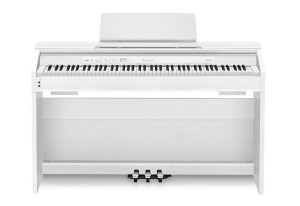 Our choice for the best digital piano must be Casio PX870 Privia. Apart from the fact that it has the best value for money ratio, it is the best choice for a piano between the small digital keyboard and the acoustic piano. It is the best choice for beginners as it offers the same features as an acoustic piano but at a much lower cost. It has a great design and dimensions that will fit even in smaller places. Weighing 81.4 lbs, it's not necessarily the portable kind but moving it shouldn't be a tremendous effort for two people. Built similar to an acoustic piano, it offers many more features that cannot be found in this price range at many models.
---
Roland RD-300NX Digital Piano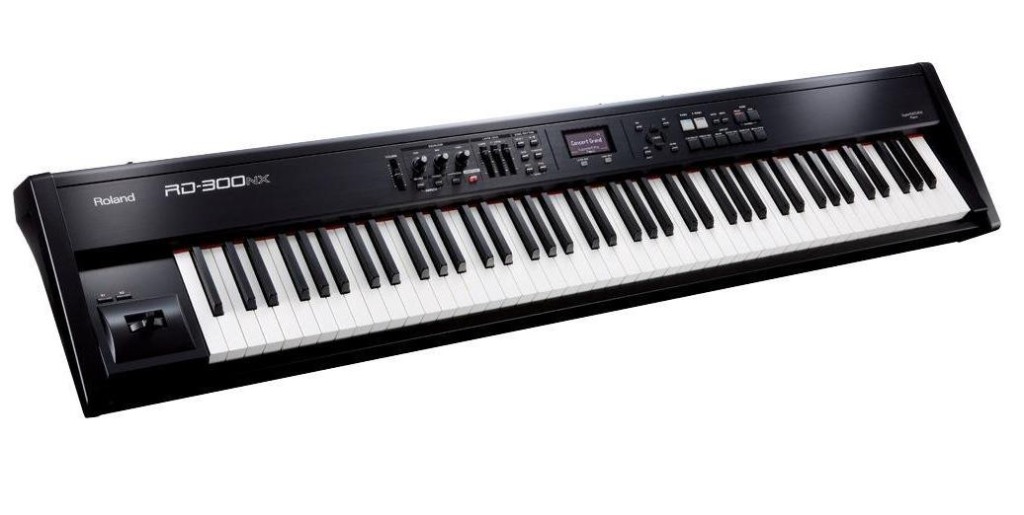 We selected the Roland RD-300NX Digital Piano for those of you who want to take it to the next level. This is a professional tool that is best suited for those who want to play to large crowds or take their piano lessons to the stage. It's a fine musical instrument for people who are really serious about it, having a higher than average price tag. The good part is that the high price tag is perfectly justified. It's a lot of technology packed in a portable size of only 38.2 lbs. It's well suited for frequent change of location. Feeling and sounding like an acoustic piano, this is the perfect choice for musicians.
---
Yamaha P-105WH Digital Piano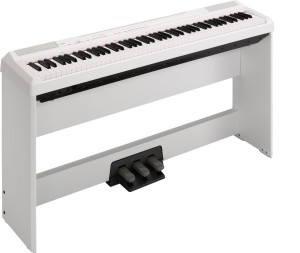 We were very pleasantly surprised by Yamaha P-105WH Digital Piano. It's portable and very easy to use, having many different functions, which makes it perfect for everyone, from beginners to the more advanced pianists. Besides the fact that it has the sound of a Yamaha grand piano which can be heard on many big stages, it also has a number of preset rhythms which can accompany you and make you sound great. It's very fun and also has a nice design. It has many similar features from the ARIUS YDP-V240, a digital piano from Yamaha in a different price range. Compared between them, the ARIUS is playing in another league, but the P-105WH found its place in the top 3 because of its value for money and functionality.
---
Best Digital Piano Brands
Like every other industry, the world of digital pianos is also ripe with a multitude of brands. Each of them has a different background, and its own strengths and weaknesses. So, which brand you reckon would be the best in this ever growing industry? Pretty confusing right?
We took an initiative and decided to go a bit deeper to find out exactly which of these several digital piano makers, can be considered as the top ones. The result is laid before you, where we have assorted the best 4 digital piano brands in our opinion. Take a look!
1. Casio


There was a time when this Japanese brand was known only for its (somewhat low-quality) calculators, watches and children's keyboards. But times (and technology) changed, and Casio is now known as one of the premier brands in the digital piano market. This, by no small means, has been made possible by Casio's continuous quest for innovation and better quality in their digital pianos range.
Casio's digital pianos are known not only for their versatility, but also for their high affordability that makes them a favorite among students and beginners. Casio offers plenty of options for quality digital pianos, for every price range. Each of its pianos features the graded hammer action technology, excellent key action and sound quality.
Top Models Under $500: Casio PX150, Casio PX160
Top Models Under $1000: Casio CGP-700BK, Casio PX850, Casio PX750, Casio PX860
2. Yamaha


The best known of all digital piano brands. Yamaha offers digital pianos for everyone from beginners to professionals, and for both home and stage performances. They have been consisted over years, to constantly deliver quality digital pianos in their quest to make them sound as close as possible to the acoustic pianos.Their digital pianos are known for their reliable, sturdy and high performance.
Yamaha uses a CFIIIS 9-foot acoustic grand concert piano for retrieving their sound samples, which is the key to their amazing sound quality. Even with all their technological advancements and latest features, the Yamaha digital pianos remain quite affordable and provide excellent value for money.
Top Models Under $500: Yamaha P35B, Yamaha P45B
Top Models Under $1000: Yamaha DGX650B, Yamaha P105B, Yamaha P115B
Top Models Under $2000: Yamaha Arius YDP181
3. Roland


They are built to satisfy the professional pianists out there. Roland digital pianos are known for their very realistic sound and feel, and robust build. Whether it is an entry level or top of the line piano, Roland always delivers on the quality and durability front.
Roland's stage piano range (RD and FP range) are constantly ranked among the best digital pianos, and are considered ideal for pros who have to travel a lot. This is due to the diligent effort put forth by the Roland to find innovations in sound sampling, tone selection and more. No matter the skill level, price or any other personal preference, Roland always delivers with a quality and reliable product.
Top Models Under $1000: Roland A-88, Roland F-20
Top Models Under $2000: Roland RD-300NX, Roland FP-80
4. Kawai


Kawai offers the best of both worlds in terms of quality and affordability. With an ever growing range of digital pianos, Kawai is known for setting high standards for the entire industry to follow. What's more, you can easily find a cheaper Kawai that offers the same features as a Yamaha or a Roland, across various price ranges.
Using their grand and upright pianos, Kawai delivers a comparable performance quality in their digital variants, with precision and dedication. It emulates the touch and key action present in their acoustic pianos, to extract a similar performance along with modern features and looks. Wooden-key actions, Harmonic Imaging sound technology, USB digital audio and the unique Soundboard Speaker System are just a few of the innovations found in Kawai's digital pianos and keyboards.
Top Models Under $1000: Kawai ES100
Top Models Under $2000: Kawai CE220, Kawai KDP90
Benefits of Choosing a Digital Piano
Digital Pianos feature a great variety of sounds and sound effects, with the push of a button. From different piano sounds to chords, you can choose from a large number of options, your creativity being the only limit. On top of this, digital pianos don't require tuning as acoustic pianos would, and need little to no maintenance.
This is one of the most important aspects when considering the purchase of a piano. The price of a high quality grand piano can climb up to tens of thousands of dollars. An average acoustic piano, for instance, may cost the same as a high quality digital piano. Over this, the cost of transporting an acoustic piano adds to the piano's price, which may sometimes be higher than you would expect. A digital piano ships free, which is ultimately saving you money.
A typical piano is the largest musical instrument. Moving it would require a hiring a team for the job because it's a very complicated task. Some of the larger pianos need to be taken apart as well. The bill would start from several hundreds of dollars upward. A digital piano, on the other hand, is a lightweight, portable instrument. Even some of the largest ones don't exceed dimensions and weight that would be an obstacle for two people to move it more or less easily.
This is an important aspect of digital pianos. Recording a song played on the piano used to be very difficult in the past. With technology dominating diverse fields, especially music, it is extremely easy for a pianist to connect to a PC or a Laptop and record all of his compositions. More than that, he can analyze his work and tailor his songs to perfection. Connecting as easy as using the USB ports, pianos can connect to many devices, such as sound systems.
Conclusion
Now that you have read our guide on choosing the best digital piano and have seen our top picks, it's up to you to decide which one meets your needs, budget and lifestyle. You can also consult the comparison guide if you would like to see a broader selection of the best digital pianos. You can be sure of one thing, neither of the recommended pianos will disappoint you, the choice ultimately comes down to your personal needs. We hope we made your choosing process easier and that you can make an informed decision when purchasing a digital piano.